2012 FF Draft Endorsement
One thing we need to make very clear to start this off is that, more than any other draft year, 2012 is a real crap shoot. It's extremely difficult to project where many of these players are going to go.
Because of the variety of great defensemen that exist in the top half of this draft, you might see a lot of trades go down, or teams reaching around to take "their guy" earlier than he would normally go.
To exemplify this point, I want to reiterate what I said on The Pensblog yesterday, take a look at the wide variety of rankings for the following big names in the first round.
Mikhail Grigorneko Rankings: FF (7) – Hockey Writers (4) – Central Scouting (3) – Craig Button (20)
Brendan Gaunce – FF (15) – ISS (11) – Craig Button (38) – McKeens (18)
Alex Galchenyuk – FF (4) – Mckeens (2) – ISS (14) – Hockey Writers (6)
So, as you can see, there is a large variance between where most outlets have certain players. Other than Nail Yakupov, this draft has guys going all over the board in various places.
What we know: Ray Shero is going to take the best available player regardless of position. That being said, let's take a look at a few players that could be available when the Penguins step to the podium, assuming they are picking at 22 overall.
The Reaches
The following two fowards are probably longshots. In one case, we expect the player to go earlier than 22, in the other, we expect the player to potentially fall out of the first round.
Brendan Gaunce – C- Belleville (OHL) – 6'2 – 215lbs – Shoots L – March 25, 1994
(Photo courtesy of HockeyJournal.com)
We don't expect Brendan Gaunce to last through pick 22. This solid, two-way center is very versatile and can play the game at any tempo. He's got a strong hockey sense, great two-way play, and a generally great set of offensive tools. He's a great leader in the room, has a solid work ethic, and the ability to slow the game down and maximize the potential of his teammates. Guance's issues lie in his skating, puck handling at a high rate of speed, and he does project to take some time to grow before arriving in the NHL. Hoolpa about Jordan Staal aside, Gaunce, if available, would be a steal for Pittsburgh at 22.
Tim Bozon – LW – Kamloops (WHL) – 6'0 – 183lbs – Shoots L – March 24, 1994
(Photo courtesy of HockeyFans.ch)
Here's our reach pick. If you've followed our site before, you know that we typically fall in love with a prospect and keep our fingers crossed that the Penguins find a way to nab him. While Bozon did not meet with Pittsburgh at the combine, if the draft shakes down a certain way, he may be a solid choice. Generally speaking, we have Bozon ranked higher at 25 than most other outlets out there. That being said, Bozon is an elusive forward that plays a tough game and has a wicked release that he can get off with no time whatsoever. He is great in traffic, has a great set of tools, and had a solid offensive year for a great Kamloops team. Issues lie with Bozon's smaller frame and sometimes lackadaisical approach to defense. That being said, Bozon has great hands and the ability to break a game open with his offensive ability.
The thick of things
The following players are real possibilities for the Penguins at 22.
Slater Koekkoek – D – Peterborough (OHL) – 6'2 – 186lbs – Shoots L – Feb. 18, 1994
(Photo courtesy of Yahoo!)
Slater Koekkoek (pronounced: Kook-Kook) is a mobile defenseman that spent most of the year sidelined with a torn labrum. While most cringe at the thought of taking another defenseman, we do know that Ray Shero has a penchant for magically turning stud defense into scoring wingers. Koekkoek needs to fill out a bit more, but he's a very fluid skater with great vision and distribution ability. Koekoek is also a big minutes eater and is in great shape conditioning wise. Physicality will be a big part of his development, but this is a guy both in build and in skill that you have to think Ray Shero would love to add to the system.
Nicolas Kerdiles – LW – USNTDP – 6'1 – 201lbs – Shoots L – Jan. 11, 1994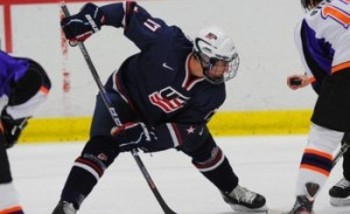 (Photo taken from Bleacher Report)
We actually have Kerdiles slotted directly into the number 22 spot in our ranking. He's your prototypical American-bred power forward. Heading to Wisconsin next year, Kerdiles drives to the net, plays the game tough, and makes the most of high scoring areas. Kerdiles battled injury this year and a bout of inconsistency, but his work ethic and attitude will take him a long way. Again, the road here to the NHL might be a bit longer, but it could be worth the wait, as Kerdiles already exhibited a high caliber of skill against the D1 schools he played this year. He is a guy that will take and deliver a check repeatedly throughout the game. His offensive bag of tools might not be flashy, but he's effective in both zones and gets to the high percentage areas.
And our official hope for the 22nd overall pick
Tom Wilson – RW – Plymouth (OHL) – 6'4 – 203lbs – Shoots R – March 29, 1994
(Photo from SBNation)
This was a tough choice for us, but an amazing playoff performance solidified this selection for our site. Tom Wilson is, hands down, the baddest man in this draft class. He's eager to fight, eager to grind the puck down, and he plays the game without fear in every aspect. His regular season numbers were not impressive, but when the going got tough in the playoffs, Wilson nearly matched his goal and point totals from the season in only 13 games played. Perhaps the most entertaining aspect of the CHL top prospects game was Tom Wilson taking off his helmet, an illegal move in the CHL regular season, and throwing down with tough defenseman Dalton Thrower mid-game. Wilson's effectiveness at the next level is in question, but his ability to be a thorn in the side of his opponents and play the game with a high level of physicality is a very real thing. Wilson has one thing going for him that a lot of his peers of a similar size do not; he's willing and eager to use that frame to his advantage. While he's not inept on offense, his hands, shot and puck control are all average at best. This is a guy that would really put some punch (pun intended) into the Penguins system. Wilson has a lot of teams that are a fan of him picking ahead of the Penguins, but the bottom line is that you can't teach size, and Wilson has it.