Eastern Conference Quarterfinals Recap - 4/20
Playoff Game 3: Penguins 3 vs. Lightning 2 2OT
Penguins lead the series 3-1.
vs.
Quick Recap
One could say the score did not reflect the play of the teams in this game. Pittsburgh outplayed Tampa Bay in all facets of the game, including the power play, but still had to wait until the 2nd overtime period to get the winning goal.
Pittsburgh jumped out to a 1-0 lead in the first period on an extremely rare power play goal. Arron Asham, Pens leading scorer in the playoffs, scored again to give the team a 2-0 lead.
Then the best player for Tampa Bay, Martin St. Louis abused Matt Niskanen and Ben Lovejoy to score one of the nicest goals of the playoffs so far. He made it 2-1.
Then after a goal mouth scrum, Sean Bergenheim scored the tying goal late in the 3rd period to send the game to overtime.
Jordan Staal had a great chance on a 2 on 1 with Asham but forced a pass to Asham instead of trying to score himself. Asham was pretty well covered but got a good chance anyway.
The Penguins dominated the first overtime, even with Tampa Bay having a power play with one of their top penalty killers in the box for tripping, Craig Adams.
They survived and in the 2nd overtime, Paul Martin keeps a puck in at the point, then Staal does the same and feeds the snakebitten James Neal for a bad angle shot that finds a way over Tampa goalie Dwayne Roloson's shoulder.
Neal became just the 4th NHL player to score their first career playoff goal in overtime.
Scoring Summary
First Period
PIT GOAL 08:14 PPG – Tyler Kennedy (2): Wrist Shot – Assists: Z. Michalek (1) & M. Letestu (1)
Second Period
PIT GOAL 02:39 Arron Asham (3): Wrist Shot – Assists: B. Lovejoy (2)
TBL GOAL 17:14 Martin St Louis (4): Wrist Shot – Assists: V. Lecavalier (2) & T. Purcell (1)
Third Period
TBL GOAL 16:43 Sean Bergenheim (1): Wrist Shot – Assists: M. St Louis (2) & P. Kubina (1)
First Overtime
No Goals.
Second Overtime
PIT GOAL 03:38 James Neal (1): Slap Shot – Assists: J. Staal (2) & P. Martin (2)
3 Stars
3rd Star: Arron Asham (1G)
2nd Star: Martin St. Louis (1G, 1A)
1st Star: James Neal (GWG OT)
Playoff Game 3: Sabres 1 vs. Flyers 0
Series is tied 2-2.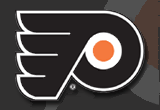 vs.
Quick Recap
Ryan Miller stood on his head once again to steal this game for Buffalo as they win 1-0 for his second shutout of the playoffs.
Jason Pominville scored on a perfect pass from playoff veteran Rob Niedermayer halfway through the first period and that would be all the offense the Sabres would need.
Brian Boucher was excellent once again in goal allowing only 1 goal on a shot he had no chance of stopping.
Philadelphia had numerous quality scoring chances but Miller and his defense managed to thwart all their chances.
James van Riemsdyk had an open net to shoot at but Buffalo 6'8" Tyler Myers dove in front of the shot and just deflected it away.
Flyers sniper Daniel Briere was left all alone in front of Miller with the game on his stick but Miller outwaited him and made an excellent glove save look easy.
Late in the second period, Flyers captain Mike Richards proved once again that he can be goaded into taking stupid penalties by elbowing Buffalo pest Patrick Kaleta. Richards received a 5 minute major for elbowing and felt that he needed to complain about the call during and after the game.
Flyers coach Peter Laviolette also lost his cool at the end of the game, swearing, screaming, and slamming the bench door as his team left the ice.
Scoring Summary
First Period
BUF GOAL 09:38 Jason Pominville (1): Snap Shot – Assists: R. Niedermayer (2) & T. Ennis (1)
Second Period
No Goals.
Third Period
No Goals.
3 Stars
3rd Star: Tyler Myers (2 sog, 1 bs, 5 hits)
2nd Star: Brian Boucher (28 saves, Save % .966)
1st Star: Ryan Miller (32 saves, shutout)
Playoff Game 3: Capitals 4 vs. Rangers 3
Capitals lead the series 3-1.
vs.
Quick Recap
At the end of the second period, Ranger fans thought they were well on their way to tying the series, earning revenge on Bruce Boudreau, and respect around the NHL that they deserve to be in the post season.
By the time Capital's player Jason Chimera taps in the game winning goal in the second overtime, they must be wondering if they can crawl back from such a crippling defeat.
After scoreless first, Artem Anisimov, Marian Gaborik, and Brandon Dubinsky all scored to give the home team a 3-0 lead that they would take into the third period.
But the Capitals fought back and tied the game after a goal by Alex Semin and two goals by Marcus Johansson to send the game into overtime.
Alexander Ovechkin got a breakaway in overtime but was stopped by Rangers goalie Henrik Lundqvist.
But Lundqvist could not stop Chimera in the second overtime after Chimera and the Capitals got some help on the play by the Rangers forward Gaborik.
A crushing defeat similar to the Sharks-Kings game from last night… only time will tell if the team can rebound to extend the series beyond 5 games.
Scoring Summary
First Period
No Goals.
Second Period
NYR GOAL 05:24 Artem Anisimov (1): Wrist Shot – Assists: C. Drury (1) & M. Sauer (1)
NYR GOAL 13:40 Marian Gaborik (1): Slap Shot – Assists: R. Fedotenko (1) & B. Dubinsky (1)
NYR GOAL 13:47 Brandon Dubinsky (2): Slap Shot – Assists: R. Fedotenko (2)
Third Period
WSH GOAL 02:47 Alexander Semin (2): Wrist Shot – Assists: none
WSH GOAL 03:44 Marcus Johansson (1): Tip-In – Assists: B. Laich (2) & M. Green (4)
WSH GOAL 12:07 Marcus Johansson (2): Slap Shot – Assists: J. Carlson (1) & K. Alzner (1)
First Overtime
No Goals.
Second Overtime
WSH GOAL 12:36 Jason Chimera (2): Tip-In – Assists: none
3 Stars
3rd Star: Jason Chimera (1 goal)
2nd Star: Ruslan Fedotenko (2 assists, 9 hits)
1st Star: Marcus Johansson (2 goals)