Western Conference Quarterfinals Recap - 4/23
*Playoff Game 3: Kings 3 Sharks 1 *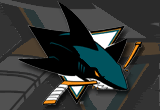 Sharks lead series 3-2
Quick Recap
The Kings forced a game six winning in San Jose with three early goals. L.A. grabbed an early lead, going up 3-0 in the first period, and with fantastic goal tending held on to keep from elimination.
Jonathan Quick made the saves all night, allowing the Kings to keep that lead. Sharks' Marleau got one behind him in the second, but a strong third period led to victory.
Game 6 will be another backs-against-the-wall for the Kings at home at Staples Center Monday at 10 p.m.
Scoring Summary
First Period:
LAK GOAL 3:36 Wayne Simmonds (1) Tip-In – Assists: K. Clifford (2) & R. Scuderi (2)
LAK GOAL 7:14 Kyle Clifford (3) Slap Shot – Assists: W. Simmonds (2) & B. Richardson (3)
LAK GOAL 8:42 Dustin Penner (1) Wrist Shot – Assists: K. Westgarth (2)
Second Period
SJS GOAL 5:43 Patrick Marleau (2) Slap Shot – Assists: N. Wallin (3) & J. Thornton (2)
Third Period
none
3 Stars
3rd Star: Rob Scuderi (1 assist)
2nd Star: Wayne Simmonds (1 goal, 1 assist)
1st Star: Jonathan Quick (51 saves)