Western Conference Quarterfinals Recap - 4/25
*Playoff Game 6:Sharks 4 Kings 3 OT *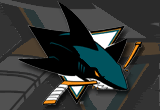 Sharks win series 4-2
Quick Recap
A scoreless first period a the Staples Center made game 6 of the Kings/Sharks series interesting. L.A. facing elimination, would put up a fight but end the season with an overtime loss.
Kyle Wellwood started off the scoring in the second, and the Sharks would hold the lead until the Kings got it past Niemi on the power play.
The tie didn't last long though as Jason Demers would score about three minutes later, ending the second 2-1 with the Sharks in the lead again.
After being robbed by Niemi's spectacular save in the second, Ryan Smyth would score on him just 18 seconds into the third to tie it up.
But San Jose high scorer Dany Heatley would notch an unassisted goal behind Jonathan Quick and take the lead again. Quick would make 28 saves throughout the night, but they wouldn't be enough to keep the Kings alive.
The power play would help L.A. again when Trevor Lewis would tie up the game with the last goal in regulation, forcing overtime with 8 minutes to go in the third.
San Jose would strike in overtime as they had early in most of the series, at 2:22 Joe Thornton would win the series for the Sharks.
Round two opponents will be deciphered after the Vancouver/Hawks game 7 tonight. If Vancouver wins, they will likely play Nashville, meaning the Sharks would have to face Detroit.
But if Chicago wins, there would probably be a Hawks-Sharks series in the near future, and Nashville would have to take their first ever round two chances against the red-hot Wings.
Scoring Summary
First Period:
none
Second Period
SJS GOAL 2:58 Kyle Wellwood (1) Wrist Shot – Assists: J. Thornton (3)
LAK GOAL 13:27 PPG – Justin Williams (3) Wrist Shot – Assists: J. Johnson (4) & T. Lewis (3)
SJS GOAL 16:52 Jason Demers (2) Snap Shot – Assists: J. Pavelski (1) & T. Mitchell (3)
Third Period
LAK GOAL 00:18 Ryan Smyth (2) Wrist Shot – Assists: J. Stoll (2)
SJS GOAL 8:48 Dany Heatley (2) Snap Shot – Assists: none
LAK GOAL 11:39 PPG – Trevor Lewis (1) Wrist Shot – Assists: J. Stoll (3) & A. Martinez (1)
Overtime
SJS GOAL 2:22 Joe Thornton (2) Wrist Shot – Assists: P. Marleau (3) & D. Setoguchi (1)
3 Stars
3rd Star: Dany Heatley (1 goal)
2nd Star: Trevor Lewis (1 goal)
1st Star: Joe Thornton (OT winner, 1 assist)