Western Conference Semifinals Recap- Game 7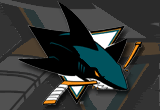 Evading a three game San Jose series lead, the Red Wings forced a game seven Tuesday in Detroit.
In a game six that went scoreless until the third period, rookie Logan Couture notched the only Sharks goal followed by three Detroit strikes to bring the series back to San Jose.
Game 7 started off the scoring much earlier when Devin Setoguchi's slapshot got behind Howard on the power play 12:21 into the first. Couture scored with under a minute to go in the first giving San Jose a 2-0 lead.
They would stay ahead on home ice, despite Detroit's momentum, to win the series in the third on Patrick Marleau's goal 12:13 into the third.
Zetterberg would score to make it 2-1 in the second, and Pavel Datsyuk would get a backhand behind Annti Niemi making the final score 3-2 Sharks.
The crowd at HP Pavilion was out of control loud throughout the entire game, with their orange "beat Detroit" game seven playoff towels, cheering on San Jose who lost to Chicago in the Western Conference Finals last year.
The Sharks will face the Canucks in the finals, which begin Sunday in Vancouver at 8 p.m. on versus.
Vancouver begins with two games at home, and more resting time as an advantage having beaten Nashville in game 6 on Monday.