Western Conference Finals Recap - Game 1
Playoff Game 1: Canucks 3 Sharks 2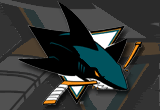 Canucks lead series 1-0
Quick Recap
The conference finals got underway at Rogers Arena with a battle of hits, penalties, power plays, and intensity.
With most of the first period remaining scoreless, despite Vancouver's two power play chances, Joe Thornton started off the scoring with a minute and some change to go.
The Sharks entered the second with a 1-0 lead, but could not hold it for long, as Maxim Lapierre notched his first of the post-season behind Niemi to tie.
On a holding penalty to Mason Raymond, Patrick Marleau scored on the power play to snatch the lead back for San Jose. It was his second goal of the playoffs, his first being the game seven winner against Detroit.
But the third period showed total domination of the Canucks on home ice. Outshooting San Jose 13-7 and scoring two goals to take the lead and the win, Vancouver takes a 1-0 lead in the conference finals.
Both goaltenders put on quite a show, Niemi making 35 saves and Luongo with 27.
Despite the 1-0 series lead, the Sharks don't seem to likely to let up the pressure anytime soon. This series will probably be a long one, with two evenly talented teams both ready to advance to play for the cup.
Players to watch out for
San Jose lost in the conference finals to Chicago last year, and Vancouver lost to them in an earlier round.
Goaltender Antti Niemi troubled the likes of Vancouver's offense as winning goaltender of the cup last season and is looking solid again.
Ryan Kesler has one assist so far in this series, but is almost without a doubt the MVP of the post season and will likely be a scoring threat to fear and if Vancouver makes it to the finals, a Conn Smythe candidate.
Scoring Summary
First Period:
SJS GOAL 18:47 Joe Thornton (3) Wrist Shot – Assists: none
Second Period
VAN GOAL 1:49 Maxim Lapierre (1) Wrist Shot – Assists: J. Hansen (2) & R. Torres (2)
SJS GOAL 8:44 PPG – Patrick Marleau (4) Assists: D. Boyle (10) & J. Thornton (10)
Third Period
VAN GOAL 7:02 Kevin Bieksa (2) Wrist Shot – Assists: A. Burrows (5) & H. Sedin (9)
VAN GOAL 8:21 PPG – Henrik Sedin (2) Backhand – Assists: C. Ehrhoff (8) & R. Kesler (11)
3 Stars
3rd Star: Kevin Bieksa (1 goal, 5 hits)
2nd Star: Antti Niemi (35 saves on 38 shots)
1st Star: Henrik Sedin (Game winner)